!- This puts in the background pattern and establishes the colors -> <!-for Text, Hot-Links and Visited-Links->
Oklahoma Boy's Ranch
The Boys Ranch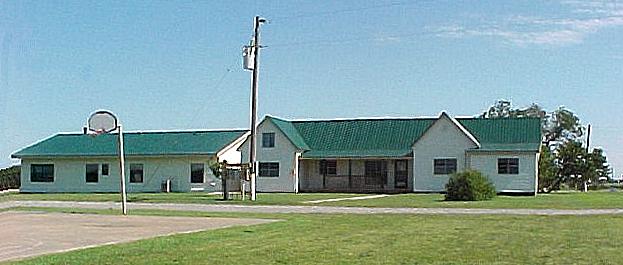 With its beginnings in 1952 as the IOA Youth Ranch, the Oklahoma Lions Boys Ranch has a long history and tradition of turning young lives around. Boys 11-18 years old come to the ranch from throughout the state and are referred by the Department of Human Services, other youth refferring agencies and families. In 1994 the Boys Ranch shifted its focus from delinquent youth to abused, deprived and neglected youth who come through the Child Welfare Division of the Department of Human Services.
Currently capacity is 16 boys (8 boys at each of two living facilities).
Within the context of nurturing, supportive and structured environment, the house-parents and counseling staff work with each boy in their emotional, academic, vocational, physical and spiritual development.
Each ranch home has a set of house-parents who live with the boys as surrogate parents. Boys share a room (two boys per room), perform household and ranch chores, as well as work with cattle, sheep, pigs and horses. Boys participate in the Perkins-Tryon FFA program showing animals of their choice.
All boys attend either Perkins-Tryon Public Schools or the Alternative School located in Perkins and operated by the Perkins-Tryone Public Schools. Most boys show an improvement in school performance, many for the first time. This is attributed to regular class atendance, regular study time, house parent assistance and the regular use of tutors. Boys are active in school extracurricular activities and local churches of their choice. Although the length of stay for each boy varies dependant upon their age and particular circumstances, the average stay isa pproxiamtely two years. In most instances, where parental rights and custody have been terminated, the boys will stay and live at the ranch until they turn 18, with the ranch helping them make the transition to well-adjusted adulthood. In some situations a boy will be able to return to their family (reunifications), or be placed into a regular foster home for the remainder of their teenage years.
The boys receive group counseling on a weekly basis, and individual counseling as needed (usually once a week). A primary goal of the counseling efforts is related to helping the boys work through the issues of abuse, neglect and abandonment they have experienced prior to coming to the Lions Boys Ranch.
Club member Lion Claudie Lott serves as the District 3-L representative for the Oklahoma Boy's Ranch.